So I haven't answered any of Rory's questions in a while. I've read a few other's answers to these questions, and I figured why not. Here's a link to the original questions. 🙂
Today's topic is… The Fashionistas!
Could you cope with buying no clothes for a full year? Without even trying hard. Unless I gain and/or lose a lot of weight, I tend to keep my clothes until they wear out. I just bought some clothes today because we have a wedding to go to and the clothes I bought last time (for a funeral) just won't do.
How many pairs of colored/patterned socks do you possess? Um… I don't tend to wear socks as a general rule. I think there might be a pair or two lurking in my drawer. But I'd have to look for them. I used to wear socks a lot more often, and then almost all of my socks would be colored and/or patterned.
What is YOUR number one fashion rule? All of my clothes have three rules — they must look good on me, they must fit, and they must be comfortable. Anything else is up in the air. I don't give a rat's ass if they're in style or what the latest fashion is.
What is the quirkiest customized outfit you have ever worn and where and what for did you wear it? I'm quirky by nature. I wear long skirts all of the time whether they are in fashion or not. I wear long pants no matter how hot it is. I like flowing fabric and flowing cuts. As to the quirkiest… well, nothing rises to the top.
In your opinion what are 5 basic but important items of clothing? I don't have five basic, but important, items of clothing. Clothing, like anything else, is a basic necessity. It covers my body because society says that I must cover my body. It keeps the sun from burning me in the summer, and keeps me warm in the winter. It's nice if it looks good on me, just like food is better if it tastes good, but honestly I don't give much thought to clothing other than: "Hey this is something I need to take care of. Well, I guess I should make it look good, and as cheaply as possible."
Okay, so Flares? Once popular for the 70's sure… but where are they now? Are they back? I didn't know. Fashions and styles come and go and I honestly don't pay attention. The jeans and pants in my closet are "boot cut" which are wide legged, but not quite flared. I preferred bell bottoms over flares back in the day anyway.
Which are your best three quotes that mean the most to you with regards fashion /clothing/ lifestyle? Here… have two.
You obviously have favorite colors you enjoy wearing, we all do – but if you were asked to wear the opposite colors to what you normally wear what would those colors be? You assume much, question asker, to think that I have favorite colors in my wardrobe. It goes in cycles actually. Some times I favor black and some times I favor gray and or brown. But I have a lot of color in my wardrobe too. Reds, purples, yellows (not a lot, I don't look good in yellow) and even a bunch of green and blue. While they aren't my "favorite" colors, I wear them because they look good on me. I have yellow in my skin and cannot wear certain colors even if I want to — some shades of red and pink come to mind. I have to wear what they call "cool" colors or I'll look sickly. I cannot really wear white or certain shades of yellow near my skin or people — complete strangers, mind you — will come up to me on the street and ask if I'm okay, if I need to sit down, or if I'm about to faint. It's happened before. I've learned my lesson. So I guess, to answer the question, that my opposite colors would be in the "warm" part of the color wheel.
What are the wrong trousers to wear like ever? Anything that doesn't fit… Like I had a friend who would lie down on her bed and suck her gut in to get into her jeans and when she stood up, her gut "dunlapped" or "done lapped" over the waistband of her jeans. It was awful. I've been guilty of lying down on the bed to zip my jeans up myself, but if my gut was spilling over the top? Ain't no way I'm wearing those jeans — or any pants (trousers for you Europeans). If y'all's pants are that tight, it's time to move up a size.
What is your favorite style of nightwear from the following options? Baggy T-Shirt, sans the boxers/long Johns. I'm leaving the rest of the list out because it's not needed.
For you what one single musical track just speaks fashion to you?
The celebrity whose style you most identify with from the following? — Melissa McCarthy, Jack Nicholson, Clarke Gable. Halle Berry, Meryl Streep, Lady Gaga, Charlie Chaplain, Gene Kelly, Other — So here's the thing. I don't pay attention to what celebrities wear, so I don't really know what their style is. I suppose Melissa McCarthy is my size, and I am as unpredictable in my style as Lady Gaga appears to be, but other than that… I dunno. I'm just an old hippie who wanders around in whatever's comfortable and whatever looks good (on me).
Would you wear stripes with squares? I tend to not wear either, and don't stripes and squares together make plaid? Of course, that would be on the same cloth, but whatever. 🙂
Which out of the following line up are you most likely to wear? — heels, boots, flats, loafers, sneakers, brogues, thongs [flip flops], running shoes, sandals, wedges, slippers, lace ups, decks, wellingtons, riding boots, mules, ankle boots, boat shoes, chukkas, Chelsea boot, slip- ons? So I go bare foot most of the time, and if I must wear shoes, it's mostly um… what y'all call trainers and what we call sneakers in the winter/fall. And sometimes I wear heavy work boot type shoes in the deep winter with steel toes, and if I'm feeling like dressing up, I'll wear boots — like simple boots, made of leather, just plain boots, nothing fancy. And in the summer if I must put shoes on, I have a pair of sandals. I have thus listed the entirety of my shoe collection. One pair of trainers/sneakers, one pair of work boots, one pair of leather boots (not quite cowboy boots but in the same style), and one pair of sandals. That reminds me, I need new sandals, mine are a few years old now and falling apart.
Are hats your thing? If so which styles? I like ball caps, I'm not gonna lie. I know, how typically American of me. But they are functional and keep the sun out of my eyes and the hair off of my neck. Sue me. I have a floppy hat that I wore in New Mexico because it kept the sun off my head, and I do like knit caps in the winter.
For women; last time you wore a scarf and for men; last time you wore a tie? So, for me a scarf is a heavy, knitted and/or crocheted object that one wears in the winter to keep warm. I'm guessing that's called something else where you're from, oh asker of questions. Let me check. Aha, y'all would call it a muffler. I'm guessing you mean the flimsy little bits of fabric (also called scarves) people wear for decoration. Haven't worn one of those in coming on five years. Unless you count the tubes I wear around my hair whenever it's hot.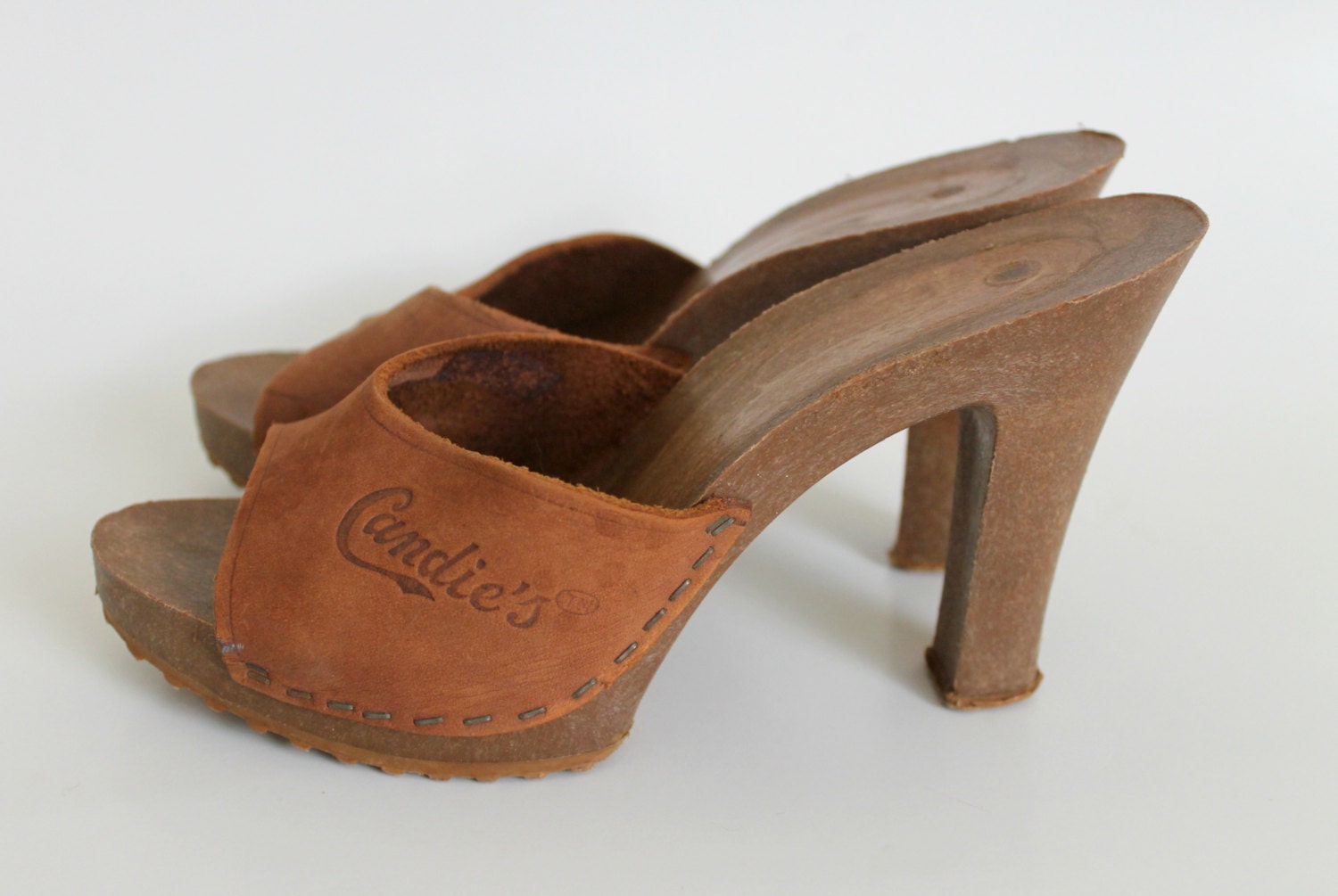 Have you ever physically suffered for the sake of a fashion trend? When I was a teenager in high school, Candie's were all the rage. I thought they were the bee's knees too. And for the most part they were kind of comfortable. But heels are uncomfortable by nature for those of us who do not wear them very often. While I thought they were cute and all, they did give me blisters. Last time I wore heels regularly. It's been flats ever since.